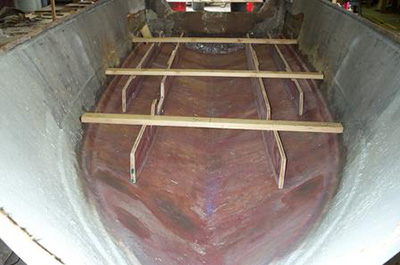 At Northwest Fiberglass Inc., we are capable of tackling any degree of boat body repair in Tomball, TX—from the simplest scratch or ding, to a complete rebuild of your hull. We also have a depth of experience when it comes to replacing stringers, floors, bulkheads and transoms. We're your foremost authority for any and all boat body repair in Tomball, Hufsmith, Spring, and Harris County, TX!
Artisan repairs
Because we are a repair facility and not a production shop, we build one boat at a time. What this means for you, our customer, is the unwavering dedication of our team at all times. We aren't splitting time between multiple builds: you're our sole focus.
Unlike manufactures, we also prefer to hand-lay our glass, to ensure a constant thickness from start to finish. We're all about providing superior craftsmanship, which means taking the time to make sure even the smallest, simplest details are done right.
Continued Innovation
Because we're innovators, we've also come up with a procedure to replace a transom with composite materials on outboard models, without disassembling the hull or disrupting any of the factory seams! This is a groundbreaking way to ensure our customers get the reliable repairs they need, without having to go through the invasive process of disassembly. This procedure has allowed us to slash over 40% of the labor costs and pass it on to our customers!
We are always looking at new composite materials and new procedures to improve quality and workmanship, and reduce cost!
Contact us
If your boat has seen better days or you need repairs to make it seafaring once again, trust the experts at Northwest Fiberglass Inc. From painting to restorations in Tomball, TX and beyond, we tout the expertise you need to breathe new life into your damaged boat. Contact us today at 281-290-0000 to discuss the scope of work and estimates.