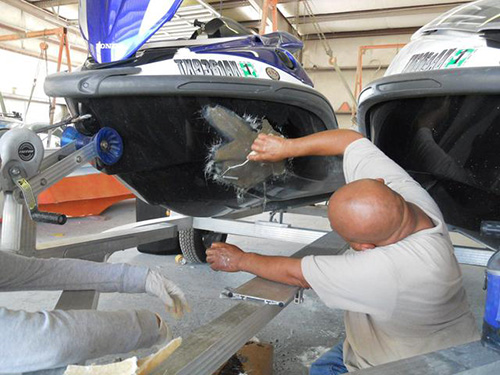 Fiberglass is a quality material that's ideal for boats and other seafaring vessels, thanks to its high impermeability and streamlined construction. However, fiberglass can also become damaged in a myriad of ways, and when it is, it requires an immediate fix.
If you're dealing with damage to your boat and require fiberglass boat repair in Tomball, Hufsmith, Spring, and Harris County, TX, trust the professionals at Northwest Fiberglass Inc. We have a depth of experience in working with fiberglass repairs in varying capacities and scopes, which means you're able to get the solutions you need to maintain your boat's hull.
Spot repair
Accidents happen. From impact damage to damage via deterioration of the gelcoat, your boat is bound to experience some degree of fiberglass abrasion at some point in its life. When it does, trusting a professional that can fully repair it is imperative.
Our approach to fiberglass boat repair is encompassing and precise. We don't just slap on a patch, epoxy, sand and paint—instead, we take each step of the process with care, to ensure the finished product is absolutely seamless with the surrounding area and the fix itself is strong and reliable.
Complete fiberglass boat restoration
If you've got an old boat that is in poor shape, we invite you to consult with us regarding complete fiberglass boat restoration in Tomball, TX. We have experience in dealing with hulls that are extremely aged or worn, and we can breathe new life into fiberglass via extensive, careful workmanship.
Contact us
Don't let blemishes or damage to your fiberglass impact your enjoyment of your boat. Instead, trust the professionals at Northwest Fiberglass Inc. to provide you with complete, comprehensive fiberglass boat restorations that repair the integrity and allure of your fiberglass. Contact us today at 281-290-0000 for more information or to request a quote on fiberglass, metal flake, or non-skid repairs.