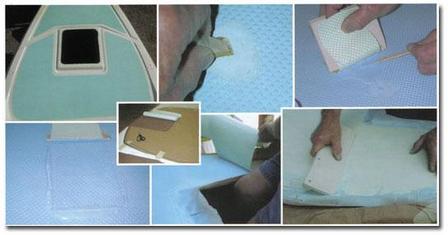 Non-skid surfaces in your boat are extremely important for safety. Damage to these areas could mean subjecting yourself to hazardous situations when your deck becomes wet, including slips and falls. It's imperative that when you notice damage to your non-skid areas, you seek professional boat deck repair in Tomball, Hufsmith, Spring, and Harris County, TX to resolve them.
One of the specialties that Northwest Fiberglass Inc. prides itself on is non-skid repair, and our method of creating fixes is one that's seamless. We'll correct any damages or imperfections and restore them to a like-new state, without having to perform a full replacement or retrofit for your non-skid surfaces!
Our approach
Non-skid repairs can be applied with a paint roller, using gel coat and a cabosil, usually followed by a contrast colored webbing. This type of repair creates a unique look and is easy to clean. It's commonly used to replace carpeted areas as well.
Traditional diamond- and oval-shaped nonskid patterns are applied by using a linoleum-type material. This is a much more difficult procedure and takes a vast degree of experience to facilitate properly. Even small repairs done without an expert understanding of the process can show results that signal repairs have been made.
In the event a repair is extensive enough to require a full retrofit, we can assist you in matching the pattern and texture of the non-skid to ensure a flawless match against existing components. We'll help restore that factory-quality appeal!
Contact us
If you have damage to your non-skid surfaces or are dealing with damages that require a professional approach to resolve them, contact us today at 281-290-0000. We can work with you to evaluate the scope of work and provide a free estimate on non-skid and structured repairs or coatings. No matter the extent of the damage or the nature of the material, our experts are ready to serve you.