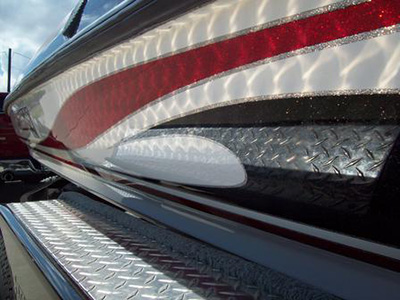 Metal Flake is a beautiful finish for your boat and something that will add undeniable allure to it. This finish has a gloss like no other paint job out there, however it's also one of the toughest paint jobs to repair if and when damage occurs. Because of the particulate effects of the paint, spot-repairs are often easily seen.
Instead of settling for a job that's "good enough," come to Northwest Fiberglass Inc. for a job that's done to perfection if you require metal flake gel coat repair in Tomball, Hufsmith, Spring, and Harris County, TX. We don't just slap an extra coat of paint on your blemishes and call it a job well done—we go the extra mile to make sure the blend is seamless and the repair is virtually invisible to the naked eye!
Our approach
Our approach to metal flake gel coat restoration in Tomball, TX is one that has taken years to develop, and today it's one of the best, most reliable methods in the industry for correcting metal flake paint imperfections.
Our proprietary method of repair is the result of collaboration with boat and gel coat manufactures, with an emphasis on developing a strategy that results in perfect, flawless repairs. We've taken the time to understand not only metal flake paint products, but also how they adhere and apply to boats, giving us the ability to apply them in a way that best utilizes their properties.
Moreover, our technicians take pride in all of the work they do—especially when it comes to our metal flake gel coat repairs. We can confidently say that we're the best in the business!
Contact us
Whether your boat has undertaken some damage to its paint job or you're looking to breathe new life into an old boat with metal flake gel coat restoration in Tomball, TX, Northwest Fiberglass Inc. is your first and only destination. Contact us today by calling 281-290-0000, to get more information about metal flake gel coat restoration and repair abilities or to request a quote on non-skid and structured service.