Bring Your Boat to Life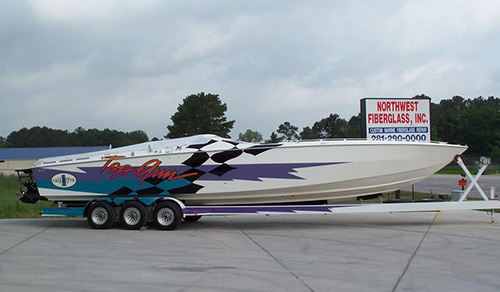 Having a structurally-sound boat is important and essential, but so is having the right look! If your boat is plain and uninteresting, you're not getting the most out of your investment. Instead, it should turn heads, widen eyes and leave you feeling proud to be on something so alluring and appealing.
If you're looking for boat painters in Tomball, Hufsmith, Spring, or Harris County, TX who can give your boat the appeal of a quality paint job, look no further than Northwest Fiberglass Inc. Our professionals have been painting boats for more than a decade! We're happy to work on boats of all sizes and styles, with the promise of a pristine, appealing paint job to follow.
From metal flake paint that sparkles and gleams in the sun, to a clean, shiny gloss finish, we're happy to paint your boat to reflect the aesthetic you're looking to reap from it. Classic to modern, flashy to subtle, our technicians will paint your ideal boat façade to make sure you're behind the wheel of a boat that's perfect for you.
Coatings
Not looking for anything too flashy, but still want your boat to stand out at the marina? Our boat painters in Tomball, TX are also thoroughly versed in coatings and other applications, designed to show off a clean, photo-worthy finish. From a high-gloss finish that gleams in the sun, to a particulate-effect gloss that adds a subtle shimmer to your vessel, consult with us about the coating that's right for you and your boat.
Contact us
If your boat just needs a fresh coat of paint to become beautiful again, get in touch with Northwest Fiberglass Inc. today. We take pride in the paintwork we do and will consult with you about your vision for your vessel. Contact us today by calling 281-290-0000 and we'll work with you to figure out a scope of work and estimates on restoration or gel coat repair service.