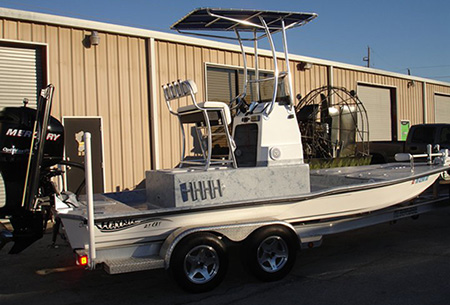 Buying a boat isn't something that you just "decide" to do—it's an investment that requires substantial cash, time and patience. Between actually buying the boat, maintaining it, repairing it and, of course, using it, there's more that goes into being a boat owner than meets the eye.
Unfortunately, not everyone is up to the task of owning a boat and as a result, many boats reach a state of disrepair over the years. They're either sold for junk and parts, scrapped, or just left to wither in a storage facility.
If you're sitting on a boat that's no longer in seafaring condition or appears damaged beyond use, don't fret: Northwest Fiberglass Inc. is here to provide you with complete boat restoration in Tomball, Hufsmith, Spring, and Harris County, TX! No matter the scope of damage or the extent of work required to breathe new life into your boat, we're on hand to make sure your boat is getting the attention it deserves.
Why come to us for boat repair in Tomball, TX? There are a number of reasons customers have and continue to trust us, and the benefits of seeking boat repair are astounding:
You can recoup the investment you made in an old boat, or buy low and sell high after an investment in boat repair.
Reinvesting in your boat can mean not having to buy a newer model down the line.
Refinishing a boat means giving yourself the opportunity to get back out on the water and do the things you love!
Compared to the cost of buying a brand new boat, restoring and refinishing your existing boat is going to be the smarter investment. Even if you think it's too far gone to salvage and save, let Northwest Fiberglass Inc. be the judge! We've worked on boats in numerous capacities and can remediate damage of virtually any scope.
Contact us today by calling 281-290-0000 and we'll be happy to provide you with a comprehensive assessment on the scope of work needed to restore your boat, as well as a free estimate on any services, including gel coat repair and restoration, we would provide!