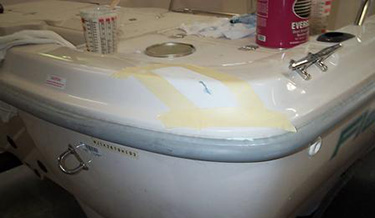 The gel coat that protects the fiberglass structure of your boat is among the most important aspects to maintain. A gel coat that's damaged, worn or stripped does more than just give your boat a downtrodden appearance—it also leaves the potential for damage to the hull.
At Northwest Fiberglass Inc., we help our customers prevent damage to their boat and keep it looking its best through comprehensive gel coat repair in Tomball, TX. Whether fouling has detracted from your existing gel coat or a lack of proper maintenance has resulted in imperfections, we take it upon ourselves to provide you with the targeted repairs your boat needs to be flawless again.
The Northwest Fiberglass Inc. approach
Normally, gel coat repair is a very timely and labor-intensive process. Properly defining the scope of the repair, prepping the boat and applying the fix takes time. Here at Northwest Fiberglass Inc., we've put together a system that streamlines the repair process, without compromising the results. The result is a flawless repair job that protects your boat, looks great and saves you money in the long run.
No matter the extent of damage to your gel coat or the degree to which your boat requires repairs, know that our technicians are on hand to make sure the next time your boat hits the water, it's protected. We'll keep the sun, water, salt and fouling from damaging your boat, so you can spend more time focused on sailing and enjoying your time on the water.
Contact us
For more information about our capabilities when it comes to gel coat repair in Tomball, Hufsmith, Spring, or Harris County, TX or to request a free estimate on fiberglass or gel coat repair and restoration costs, please contact us today by calling 281-290-0000. We're happy to speak with you about the extent of damage to your gel coat and recommend solutions that restore its vitality and beauty.